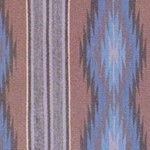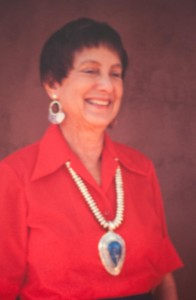 Theda Bassman 1920 – 2014
Southwest Indian Contemporary Arts author and trader, backpacker, nature lover, social activist, designer
Theda Rita Bassman, resident of Idyllwild, CA, died peacefully at home at the age of 94 on July 28, 2014. Born in Los Angeles in 1920, Theda moved to Palm Desert, CA in 1971, then to Idyllwild in 2000 with her husband Mike. She loved the less frantic pace, the forest environment, wildlife, the snow coming down (when it did) and the regular alpine glow on Lily Rock each evening viewed from her back deck, along with the arts and music that Idyllwild has to offer.
An only child, Theda grew up in Los Angeles, CA, got married at 20 to Al Newman who was a women's apparel designer. This kept Theda fashionably dressed during his career. She then raised their two children alone after her husband died in 1961. In 1954, a friend of hers introduced her to the Sierra and the back country. She was hooked. The kids were taken on many a trip to the usual places such as Yosemite and Sequoia and out of the way backpacking places like the Evolution basin growing up, and then further afield to national parks and monuments all along the Western U.S. and Canada. There wasn't a dirt road off the highway that didn't attract a detour.
Theda raised two kids as a housewife and, with the death of her husband in 1961, worked as a bookkeeper. Already with a love of hiking, backpacking and exploration of the Sierra Nevada and other western national parks and monuments, she discovered the contemporary art of the Southwest Indian tribes. With an artistic eye, she fell in love with the artwork and began a store in Beverly Hills in the early 1970's called the Indian and I, helped by her second husband Mike Bassman. When the store was robbed and the insurance company refused to cover the losses, the store went out of business and she began trading out of her home. She and Mike bought a place near Happy Jack, AZ for summer visits out to visit and trade with the artists and began a friendship with many.
From those relationships, she came up with the idea to write about some of the best kachina (katsina) carvers and especially about how they felt about their creations. With photographer Gene Balzer, her book "Kachina Dolls and their Carvers "was thus more than than just cataloging the art. Her next book featured kachina artist Cecil Calnimptewa, the only book still ever written about a single carver. She went on, to write 6 more books about Southwest Indian jewelry, pottery rugs and more.
Her home with Mike in Palm Desert was like a museum, but when downsizing to relocate to the artistic community of Idyllwild in the mountains of southern California, she divested of much of her native art and made more friends in the process from those who acquired that art.
Theda also had a love of classical and folk music. Folk music incorporated social justice that was a passion of hers. The kids were taken to many a concert of the Weavers, Pete Seeger, and more. As Theda became more hard of hearing in later years, the first thing Gary would ask when calling on the phone would be to ask her to turn the music off so they could talk.
Her son Gary and grandson Max are carrying on the musician tradition in the family, Max professionally currently with contradance bands out of New England Nor'easter and the Stringrays.
During their time together, Theda and Mike traveled to other exotic places like Fiji and Tahiti, loving the beauty of coral and tropical marine life, and with her daughter Leslie several times to Italy admiring the art. Trips to Alaska were begun because her kids moved there. She and Mike went places in Alaska that her kids have yet to see.
In her later years, she devoted more time to being at home with the things she loved, feeding peanuts to 'her' squirrels and Stellar blue jays. A visit from family or friends would engender an offering of one or both of her staples: air-popped popcorn and chocolate ice cream. Her other favorite foods were lamb chops (thank you Gastronome) and sashimi. A good reason to make a whole chicken was to extract the wishbone for the contest of pulling it with her son Gary during one of her visits. Living at home alone even during her final years was challenging, but she had the assistance of her daughter and friend Lori Parker on numerous occasions, Theda was tenaciously independent to the end.
Theda was predeceased by her first husband Al Newman, second husband Mike Bassman and all of her friends and contemporary relatives who didn't live quite so long. She is survived by her daughter Leslie (Harold Trubo) of Palm Desert, her son Gary (Chena Koponen Newman) of Fairbanks, Alaska, her grandchildren Max Newman of Boston, Massachussetts and Ben Newman of Anchorage, Alaska, and their respective partners Sophia Snyder and Lauren Dolgner, and dear friend Lori Parker of Idyllwild.
No services will be held. She asked that her ashes be spread in one of her favorite places in the Sierra. Theda would encourage those who felt so moved to donate to your favorite organization that seeks to preserve and protect our environment, or another social non-sectarian charity of your choice.
You are welcome to offer any comments or reminisces below.