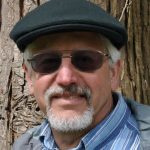 Gary Newman is a long time resident of Fairbanks, Alaska and wants people to do better about preserving our future in a sustainable way..
Giving to community has been a mainstay of his activities beyond helping his wife Chena raise their two boys. He has had occupations in the telecommunications, facilities management, computers and networking, energy conservation and renewable energy. He has served on FNSB boards and commissions as well as on governance and planning groups at the University of Alaska. Interests remain in the above, along with playing traditional music in Celtic and contra dance groups, such as Gaelic Fusion and being an active board member and organizer of Contra Borealis Dancers and other traditional music events. He's also got an active interest in Fairbanks area history, currently with focus on GVEA and the Chena Hot Springs Road area where he's lived since 1974.
Until being elected first in 2015, Gary has been one of the most active member-owner of Golden Valley Electric Association (GVEA) who did not serve on the board of directors. His years of efforts on behalf of common sense and transparency have helped the cooperative even without being a director. You can see his blog at gvea.blogspot.com
With a re-ordering of work priorities, Gary ran for and was elected to the board in 2015 and again in 2018. Those of us who buy electricity from GVEA are members AND owners. Gary shares his perspective as a board member on Facebook. You don't have to be signed up for Facebook to read it – it's a public page. He also has a website at gvea.chena.org
Currently involved in developing and making available residential lots in a community at the base of Chena Ridge, those interested are welcome to check out the Koponen Homestead, where residents will be able to take advantage of the roughly 50 acre trail system and natural area on the Koponen property.
You can also read more about the Koponen family, particularly on the legacy of Niilo Koponen.