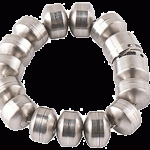 March 7, 2015
I received a check today from the State of Alaska as settlement for most of my out-of-pocket expenses for my LINX surgery last December.
I had already gone through the full internal and external appeal process, assisted by Lindstrom Advocacy. The appeal process started with the first denial in May 2014.
This settlement is the result of me engaging in an administrative legal process available to those on the state's health care plan. The hospital charge to Aetna (the State's third party administrator) was $84,000, which of course would be negotiated down, but still was quite a lot more than the cash cost.
Since December, I have been going back and forth with legal process with the assistant attorney general, who represented the state. While we both believed we had good cases and thoguht it would be a 'fun' case, they were pressed for time with our legislature in session and the cost of defending a case 750 miles away (I'm in Fairbanks, they are in Juneau), both of us were willing to cut a deal.
While they were quite clear that this settlement does not set a precedent in approving the LINX, I think it does help to get the LINX on the map.
If I had gone through the full hearing process and won, a precedent would have been set. If I lost, I could have appealed to Superior Court.
One of my exhibits was going to be all the anti-reflux drugs I no longer need, from Rolaids to omeprazole. As my voice is starting to come back from the esophagitis, I had even contemplated writing and singing a song for the hearing I would have written, a la Pete Seeger at the Chicago 8, then Chicago 7 trial.
For those tenacious enough for coverage and covered by plans that afford this additional appeal process, I'm pleased to offer my exhibits and approach.
Those with denials after appeals should keep in mind that the various Aetna, United, Anthem, etc. companies, in a group plan, are acting as a third party administrator. The company for whom you work is ultimately the decider. In a government setting, you have representatives you can also work to get on your case. The squeaky wheel can get the grease. It sure helps the swallowing.