Updated post-election, Newman was elected.  Frank lost (again).

Frank Eagle, one of my opponents in the campaign for GVEA District 4 director, made a number of claims in his Answers to Questions posted on the GVEA website and the ballot materials for the 2018 election. As someone I have considered a friendly acquaintance for many years, I was surprised and disappointed at his negativity, but more important are the inaccuracies, falsehoods, and inconsistencies about which Frank should know better.   I don't like bullies or liars, who are sometimes challenging in one's life.
With one term on the board for each of us, I wonder why he didn't talk about his own record, but perhaps there isn't much to say.  He wasn't there much.
I ran a positive campaign. Others in Letters to the Editor and personal conversation confirmed that.  However, I do want to offer a response for those who are interested in the facts about Frank's unfounded falsehoods about my record and about the unethical behavior that represents.
Eagle: "We need a board member who doesn't have his own personal agenda and who disregards consensus"
I don't have a personal agenda, but I do have platforms and they are part of GVEA's stated values. Two in particular are transparency and member engagement. Here are a few specifics, but I could offer more.
After many years of effort, I worked to shepherd putting the board's policies on the web.   Albeit with some reluctance by others, it is now there (in an odd place) at http://gvea.com/inside/annual-report
We also now have our values on the website, not just my locally stored copy.
We have our Strategic Directives (3-5 year look ahead) for 2018 on the web and it's been gathering a number of folks coming to our board meetings with discussion items related to those directives.  That's member engagement and democratic participation. 
When we failed to get enough attendance to meet quorum at our annual membership meetings a few years ago, the board endorsed and the members approved a bylaw change for a reduced quorum requirement. At that time, the board agreed to continue efforts to encourage participation. I served as chair of the Annual Meeting Committee for two years. With the assent of the board, we are continuing efforts to do so.  As the chairman of the Annual Meeting Committee, I led the effort to increase our outreach to members and I also did so personally. The result was we increased our attendance from the past few years of around 300 to 488. Not quite back to our 1,100 of 5 years ago, but still this is forward progress.   Pushing hard for outreach for next year.  Some extra prizes, too (does that motivate more than hot dogs?)
The board also endorsed and the members approved a bylaw change to no longer require a signature on the outside envelope of ballots. I brought up that we had been discarding 10-12% of ballots on director elections for lack of signature. Nobody else had ever taken much notice. Since there was no checking of signatures against GVEA records, the requirement made no sense. From my efforts, validated by the board and our members, we have effectively re-enfranchised those members whose ballots were previously discarded.  Oddly enough, in the 2018 election, my district got roughly the same turnout as when signatures WERE counted.  
In fall of 2015, I asked how we were doing on right of way clearing. The answer from management was "doing fine". I researched past years' performance and demonstrated that we were far from fine. The result? GVEA ramped up efforts with increased crews and hours and we are still catching up, now working toward a 5 year rotation of clearing from the over 10 years we have been at.  It's not going as fast as we wanted, but an increase from a 10 year to 2018 performance of 7.5 years.   The crews were trying to be very thorough this year, even on the secondaries.  Just have to keep at it. 
Eagle: "You get a lot more accomplished working together and I am a consensus builder rather than a rogue instigator."
When the board makes a decision, all directors support it. I am no exception. However, I am not one just trying to get along like in a good ole boy system, nor are other directors. There are serious questions and differences of opinions and expertise. All board members need to contribute respectfully to solutions, not just try to get along. The GVEA board is not all kumbaya and, in the interests of the members and the serious issues that face us regularly, that's a good thing. A diverse board makes better decisions. Again, once a decision is made, we all support that decision. Individual directors don't make the decision, the whole board does.
As to generating consensus, as a director, Frank's one signature effort was to get GVEA to take on the Interior Energy Project and he was unable to gather consensus.

Eagle: "Gary voted against the Healy project which is critical to lower, stable rates and in a time of decreasing KW sales he wants to spend tens of millions more on increased solar KW production. It doesn't make any sense how noble the cause. Adding to the debt load is increasing the cost of every kilowatt and we don't need that to accommodate the personal agenda of a board member."
Whoa. First, I wasn't on the board when Healy 2 was approved by the board. My 4th board meeting September 21, 2015 took place in Healy with the ribbon cutting for Healy 2. I said at the time that I had not been in favor of the experimental plant as far back as 1992 (as a citizen, not a board member), but that it was a done deed now and I wanted it to be the safest plant it could be. Two serious explosions later, the board reluctantly voted another $20 million for another fix to add to the original cost of purchase and redo of over $187 million. Once we voted to do so, I support that action.
As to tens of millions on solar, I have no idea what Frank is talking about. The Solar Committee composed of board members, MAC members and staff concluded after over a year of deliberation that GVEA should construct a .5 mw solar array next to our battery storage facility off S. Cushman with potential expansion up to 2 mw. See the Ruralite Feb. 2018 Update on the GVEA Solar Project. The cost, with a $225,000 grant from USDA, is $850,000. I don't know about tens of millions of dollars; that was never proposed, much less discussed. A member asked him about this allegation at the annual meeting and his response was something to the effect "Oh, I think that's what I heard". I believe in first getting the facts and speaking truthfully with that knowledge.
Eagle: "I would like to facilitate an expansion of Golden Valley to become Golden Valley Energy Association …. Golden Valley has the wherewithal"
Frank ran on this 3 years ago and, prior as a board member, tried as well, but was not able to convince the board to take on what is now the Interior Energy Project. As most who have read about it, the natural gas project is financially challenged to be economic and in the near term will only will benefit a small group of Fairbanks-North Pole residents. The Interior Gas Utility (IGU) is into this project for several hundred million dollars. Frank talks about my personal agenda and debt load, but he wants GVEA to take that on that liability even though there is another organization that has taken it on?
Three years ago, Frank asked me to withdraw from running for the board and run for the IGU board instead. I asked why and he said, "Because we need natural gas." At the same time, he told me "Gary, you know more about this stuff (GVEA) than I ever will." I wonder why he hasn't been engaged in either running for the IGU board or at least attending many of the meetings about the project and other Interior energy matters as I have over the past decades.
This year, Frank and I had a brief chat and he indicated that he wanted to run for the board because it sounded like fun. I can guarantee it's not meant for entertainment. Serving is serious business. During his term, I believe the board took Frank to task for failing to be committed to his responsibilities. The record shows that he missed 6 meetings during his one term and participated by phone for 5-1/2 meetings. This is the worst attendance record of any director during that period and for a very long time. It is actually rare that directors miss meetings, but even so, one needs to be prepared. Frank apparently liked to attend conferences where he could golf and enjoy different parts of the country. I suppose I'm glad he enjoyed the travel, but my commitment for meetings and travel is to what will benefit the members. I provide that with a trip report for travel on GVEA business that I've made sure is available to our members. I attend training to bring back knowledge to help our cooperative be the best it can be for our members, not to have fun.
Every director brings expertise to the board. I've outlined my areas of expertise in my Answers to Questions in ballot materials. I do not have a personal agenda, but I have been successful in helping the board and GVEA moving forward in areas of communication, technology, transparency, member engagement, and working toward a future looking electric cooperative for Interior Alaskans.

Just the facts.
P.S. A member passed along this bit of history that I had forgotten. Seems to be a pattern. I also served on the Planning Commission, but served honorably and I showed up. Just like I do for GVEA.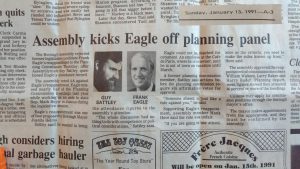 I told those who I asked of my disappointment with the unethical campaign that Frank ran against me.   More than a few, including those who socialize with him,  indicated they were not surprised as 'that's Frank'.    'He lies' said one quite clearly.  I think they have played golf together.  Sad.